SECTIONS | Welcome to the Dancetech-Thomann store.
Synth/sampler/drumbox, sample-CD's, synth s/w
Midiware, sequencers, home keyboards
Rack effects, pre-amps & processors
Monitors, studio mixers/recorders, h'phones, tape
Dj-kit, Pa-gear, small mixers, speakers & amps
Microphones & accessories
Pc/Mac audio/midi h/w & s/w, storage media
Expansion boards, accessories etc
Piano's & organs
Cases & racks & accessories
Top Sellers...
Blowouts...
New Products...
Similar Products...
Sonor AS 07 1405 BG Artist Snare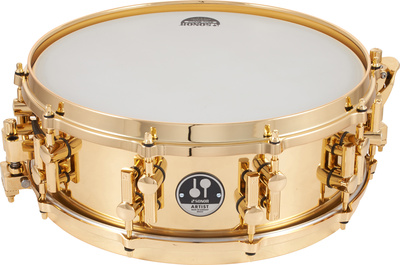 Sonor AS 07 1405 BG Artist Snare Drum Brass 14"x5", Colour: BG = Brass Gold, Measurements: 14" x 5", Shell: Brass, Shell Thickness: 1 mm, Tension Rods: 2 x 10 pieces, Snare Wires: SW 1424 MS 06, 24 brass wires, Features: die-cast hoops, TuneSafe, throw-off snare action, gold plated fittings with finish protectors, protection lacquer. The best choice for drummers looking for explosive, bright sound characteristics with a high level of force and emphatically soft shading. A broad spectrum, with sensitive response for all playing dynamics, are other trademarks of this snare drum. All of the fittings are in gold finish, giving the drum an exclusive look.
Delivery prices