SECTIONS | Welcome to the Dancetech-Thomann store.
Synth/sampler/drumbox, sample-CD's, synth s/w
Midiware, sequencers, home keyboards
Rack effects, pre-amps & processors
Monitors, studio mixers/recorders, h'phones, tape
Dj-kit, Pa-gear, small mixers, speakers & amps
Microphones & accessories
Pc/Mac audio/midi h/w & s/w, storage media
Expansion boards, accessories etc
Piano's & organs
Cases & racks & accessories
Mega-Deals...
Top Sellers...
Blowouts...
New Products...
Similar Products...
Yamaha YV 1605 A Vibraphone A=442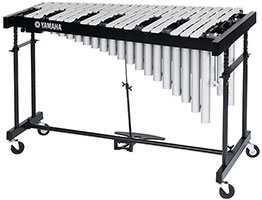 Yamaha YV-1605 - 3 octave silver intermediate vibraphone (F-F3), matt finish bars, non-graduated bar sizes (1-1/2" x 1/2"), height adjustable (31-1/2" to 34-5/8"), silver finished resonators, YVM-200 motor with silent pause control (25-150rpm), oversized pedal, large 3" castors (two locking), pitch: A=442Hz. Dimensions: 48-7/8" x 29-1/8". Weight: 83.3 pounds.
Delivery prices