SECTIONS | Welcome to the Dancetech-Thomann store.
Synth/sampler/drumbox, sample-CD's, synth s/w
Midiware, sequencers, home keyboards
Rack effects, pre-amps & processors
Monitors, studio mixers/recorders, h'phones, tape
Dj-kit, Pa-gear, small mixers, speakers & amps
Microphones & accessories
Pc/Mac audio/midi h/w & s/w, storage media
Expansion boards, accessories etc
Piano's & organs
Cases & racks & accessories
Mega-Deals...
Top Sellers...
Blowouts...
New Products...
Similar Products...
the t.bone Tour Guide TG 16 R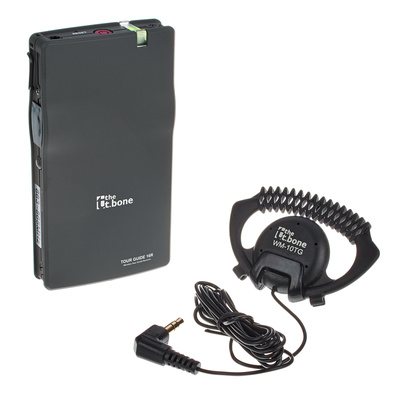 the t.bone Tour Guide TG 16 R - UHF receiver with 16x switchable frequencies (863-865MHz), up to 3 parallel systems, channel and power LED, internal lithium battery cell, charging contacts for optional charger system (TG C2), 3.5mm headphones output, includes WM10 TG one ear phone, band and belt clip.
Delivery prices