SECTIONS | Welcome to the Dancetech-Thomann store.
Synth/sampler/drumbox, sample-CD's, synth s/w
Midiware, sequencers, home keyboards
Rack effects, pre-amps & processors
Monitors, studio mixers/recorders, h'phones, tape
Dj-kit, Pa-gear, small mixers, speakers & amps
Microphones & accessories
Pc/Mac audio/midi h/w & s/w, storage media
Expansion boards, accessories etc
Piano's & organs
Cases & racks & accessories
Top Sellers...
Similar Products...
Midiland Optimizer 7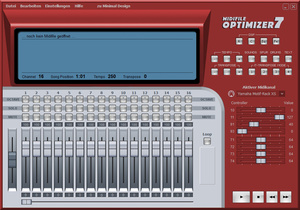 Midiland Optimizer 7 MIDIfile Player and Editor - drum editor, sound maps for all GM-, GM2- and XG-instruments, all sounds of GEM Genesys Pro, Genesys Pro S, Genesys XP, GM-X, Ketron midjay, SD1, SD1 plus, SD2, SD5, X1, Korg i30, Pa 1X (pro), Pa 80, Limex Alpinmaster 16 und 32, Roland Fantom XR, G-70, SC-88, SC-88Pro, SC-880, SC-8820, SC-8850, SC-D70, Soli GM ALPHA und Tradition XL, Solton SG-X, Yamaha PSR 3000, PSR 8000, PSR 9000, 9000Pro, Motiv ES, S 90 ES, S 90, MU90R, Tyros 1,Tyros 2 Tyros 3 and Tyros 4, Miditemp Do-X1 can be selected, lyrics display, transposer, event editor, normalizer, multimode. System requirements: 1.5GHz processor, 512MB RAM, 1024 x 768 VGA display (16bit colour), Windows XP (SP3). Recommended configuration: 2GHz or higher, 1024MB RAM or higher, 1280 x 1024 VGA, 24bit colour, Windows XP(SP3)/Vista/7. Now includes event editor. Includes USB dongle.
Delivery prices