SECTIONS | Welcome to the Dancetech-Thomann store.
Synth/sampler/drumbox, sample-CD's, synth s/w
Midiware, sequencers, home keyboards
Rack effects, pre-amps & processors
Monitors, studio mixers/recorders, h'phones, tape
Dj-kit, Pa-gear, small mixers, speakers & amps
Microphones & accessories
Pc/Mac audio/midi h/w & s/w, storage media
Expansion boards, accessories etc
Piano's & organs
Cases & racks & accessories
Mega-Deals...
Top Sellers...
Blowouts...
New Products...
Similar Products...
Korg PA-900 TK SD Dongle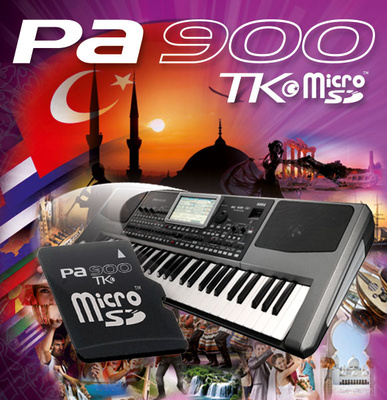 Korg PA-900 TK SD Dongle - MicroSD Expansion for PA-900 with sounds and styles from turkey, balkan and many other countries, 200 styles, 90 drumkits, 290 User-Sounds, 218 performances, 100 extra SongBook entries, 120 Pads, 172 MB PCM (uncompressed), MicoSD-Card usable as a Dongle - Software download via Korg.
Delivery prices