SECTIONS | Welcome to the Dancetech-Thomann store.
Synth/sampler/drumbox, sample-CD's, synth s/w
Midiware, sequencers, home keyboards
Rack effects, pre-amps & processors
Monitors, studio mixers/recorders, h'phones, tape
Dj-kit, Pa-gear, small mixers, speakers & amps
Microphones & accessories
Pc/Mac audio/midi h/w & s/w, storage media
Expansion boards, accessories etc
Piano's & organs
Cases & racks & accessories
Mega-Deals...
Top Sellers...
Similar Products...
Native Instruments Komplete 12 Ultimate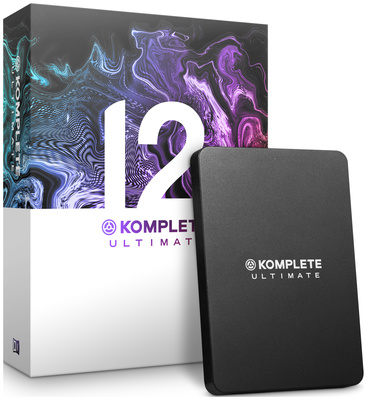 Native Instruments Komplete 12 Ultimate; Complete Package of NI Software Instruments and Sample Libraries; contains more than 100 Instruments and Effects; for example: Symphony Essentials, Flesh, Emotive Strings, Form, Replika, Strummed Acoustic Guitar, Una Corda, Discovery Series "India", Reaktor 6 incl. Blocks, Kinetic Metal, Kontakt 6 and much more, 45000 Sounds, supported Plugin-Formats: VST/AU/AAX//Stand alone; Internet connection for authorization and Updates.
Delivery prices