SECTIONS | Welcome to the Dancetech-Thomann store.
Synth/sampler/drumbox, sample-CD's, synth s/w
Midiware, sequencers, home keyboards
Rack effects, pre-amps & processors
Monitors, studio mixers/recorders, h'phones, tape
Dj-kit, Pa-gear, small mixers, speakers & amps
Microphones & accessories
Pc/Mac audio/midi h/w & s/w, storage media
Expansion boards, accessories etc
Piano's & organs
Cases & racks & accessories
Mega-Deals...
Top Sellers...
New Products...
Similar Products...
Steinberg Absolute 4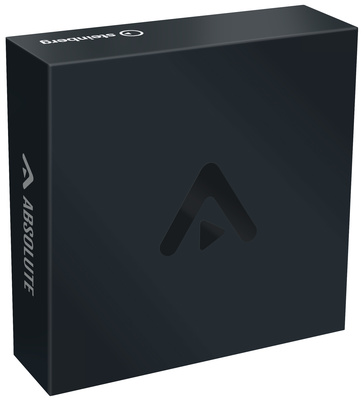 Steinberg Absolute 4; Software Instrument Collection with over 6.800 presets and more than 100 GB library; includes HALion 6, HALion Sonic 3, Padshop Pro, Granular Guitars, Retrologue 2, Anima, Skylab, Auron, Trium, Voltage, Triebwerk, Hypnotic Dance, The Raven, The Eagle, The Grand 3, Model C, HALiotron, Hot Brass, Groove Agent 5, B-Box, World Percussion, Prime Cuts, Rock Essentials, Studio Strings, Dark Planet, Symphonic Orchestra and World Instruments; system requirements: Windows 7 (64-bit), Windows 8 (64-bit), Windows 10 (64-bit), macOS Sierra, macOS High Sierra, macOS Mojave, min. 64-bit Intel or AMD multi-core (Intel i5 or faster recommended), min. 8 GB RAM (16 GB recommended), 100 GB free hard disk space, ASIO or CoreAudio compatible audio interface, fast Internet connection for license activation and installer / content download; Attention: Software license without data carrier!
Delivery prices